> back to home
Visualizations
Here you find some of the visualizations I worked on during my internship at the Fraunhofer Institute, at the department of Information Visualization and Visual Analytics.
---
Work behavior (SWELL-KW dataset)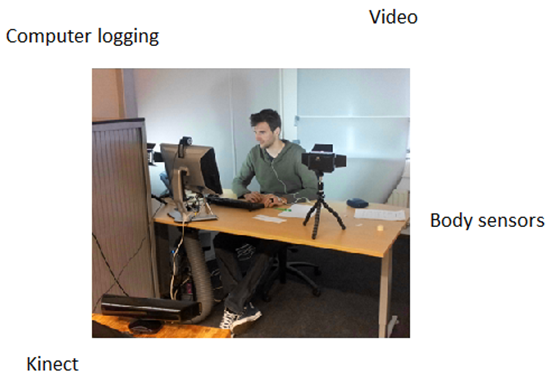 The data:
The dataset was collected in an experiment, in which 25 people performed typical knowledge work (writing reports, making presentations, reading e-mail, searching for information). We manipulated their working conditions with the stressors: email interruptions and time pressure. A varied set of data was recorded: computer logging, facial expression from camera recordings, body postures from a Kinect 3D sensor and heart rate (variability) and skin conductance from body sensors.
Koldijk, S., Sappelli, M., Verberne, S., Neerincx, M., & Kraaij, W. (2014). The SWELL Knowledge Work Dataset for Stress and User Modeling Research. In: Proceedings of the 16th ACM International Conference on Multimodal Interaction (ICMI 2014) (Istanbul, Turkey, 12-16 November 2014). [pdf]
Our visualizations:
---
SWELL Subjective Input app
The data:
The data was collected during 8 months with the SWELL Subjective Input App. The user filled in his experienced Energy level, Valence and Calmness/Stress: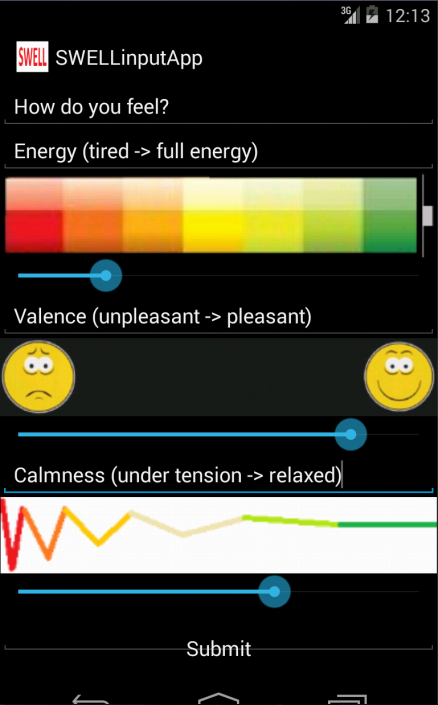 Our visualization:
---
SWELL Personal Feedback Tool
The data:
The data was collected during office days for about a year. Computer data was logged (amount of keystrokes, clicks and application switches) and the user annotated this data with the energy level that he or she experienced:



For more details see Deliverable 'SWELL@Work Applications' (section 'Personal Feedback Tool')
Our visualization: